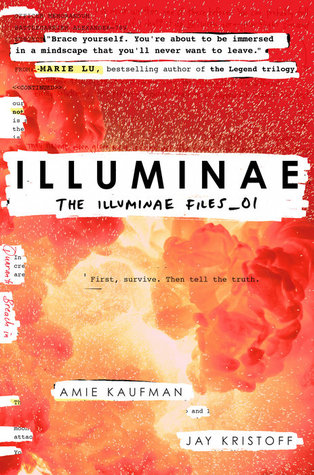 Title: Illuminae
Author: Amie Kaufman & Jay Kristoff
Genre: Science Fiction | Dystopian
Rating: 5/5 stars
"This morning, Kady thought breaking up with Ezra was the hardest thing she'd have to do.
This afternoon, her planet was invaded.
The year is 2575, and two rival megacorporations are at war over a planet that's little more than an ice-covered speck at the edge of the universe. Too bad nobody thought to warn the people living on it. With enemy fire raining down on them, Kady and Ezra—who are barely even talking to each other—are forced to fight their way onto an evacuating fleet, with an enemy warship in hot pursuit.
But their problems are just getting started. A deadly plague has broken out and is mutating, with terrifying results; the fleet's AI, which should be protecting them, may actually be their enemy; and nobody in charge will say what's really going on. As Kady hacks into a tangled web of data to find the truth, it's clear only one person can help her bring it all to light: the ex-boyfriend she swore she'd never speak to again." ~ Goodreads
First off, I can talk about how awesome & beautiful the book cover is (both the cover & the hard bound covering). I love it. They both interact with each other to create the image you get for the online cover image. It's so different to what I've seen.Also the way the story is displayed is great & different. The story is told in files, reports, IMs, interview & a bunch of other things like that. These things that tell the story aren't just plain text. They've been formatted. For example, the files look like it was a file itself was printed on the page. Anything that happened to the files, shows up on the file. Which is awesome but it did make it a little hard to read certain parts. I also, kinda wished that some parts were in color. I feel like they would have given a bigger effect/impact. The book was designed so beautifully!
Now onto the actual content of the book. I really enjoyed the story line. It was different and it have a love story. But the love story was a small part of it instead of it being a big annoying part of it. The love story was realistic. It drove, Kady, the main character to do things that love would do. I did wish for a second that there wasn't a love story but then I realized that the love story Calcutta adds to the story & is needed. I did get a bit confused at parts, but that's probably more because of fast I read. The story  is set in space which was great!!  Space is amazing!
There wasn't much diversity in the story…at least from what I could tell.
This is a book you should read by a physical copy, at least in my opinion. It may be a book that is okay to read by ebook. As I mentioned earlier the story is told through file, IMs and other things like that. So they may be in picture format on an ebook. I'm not sure though.
This book is amazing!! I honestly don't know what to say. This is a book you just have to read.