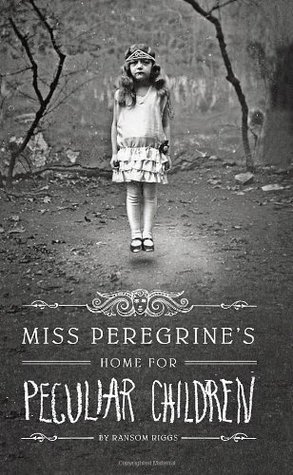 Title: Miss Peregrine's Home for Peculiar Children
Author: Ransom Riggs
Genre: Young Adult | Horror |Dark Fantasy
Rating: 2/5 stars
"A mysterious island. An abandoned orphanage. A strange collection of curious photographs.
A horrific family tragedy sets sixteen-year-old Jacob journeying to a remote island off the coast of Wales, where he discovers the crumbling ruins of Miss Peregrine's Home for Peculiar Children. As Jacob explores its abandoned bedrooms and hallways, it becomes clear that the children were more than just peculiar. They may have been dangerous. They may have been quarantined on a deserted island for good reason. And somehow—impossible though it seems—they may still be alive." ~ Goodreads
Miss Peregrine's was a book that has sort of been on my tbr list. It seemed a little interesting to me but the two people I had talked to about it said it was an okay book. Ayunda, at Tea and Paperbacks had reviewed in on goodreads and gave it two stars. My sister said that it was an okay book. So this put me off  reading this book. But then it became the book to read for this month in a book club I'm in. I was super hesitate to read it & I almost sat out from reading this book. But I was thinking about it I thought it might be bad if I, one of the admins, didn't read the book. So I decided I would read it.
After reading the book, I have to agree with my sister & Ayunda. This book was okay. It did hook me but then it kinda got boring and was very slow. The main action/climax happened very late in the book, which one took a chapter. The beginning part of the book was build up to the main actions, which was kinda boring. It was mostly, Jacob, the main character, learning/finding about the peculiar children and their situation. And the ending was just Jacob deciding whether or not he should stay with the children at the home or go home.
There wasn't much diversity in the book.
Despite the fact the genre, is dark fantasy/horror, I didn't find this book that dark or scary.
This is a book to read in a physical copy. There are lots of pictures and it be nicer to have a larger/physical copy to look at them. Also a few of the pictures are letters. I read this as a ebook so I didn' t really get a good look at the pictures and it was hard for me to read the letters in some of the pictures.